Physics Outreach and Instruction through New Technologies (POINT) is an ICASU project aimed at generating interest in physics for middle school and high school students through virtual reality (VR). Our goal is to increase student engagement with science and encourage more students to pursue AP and college physics courses.
This project includes three major goals:
To investigate the benefits of using VR to explain physics in local classrooms.

To develop further simulations to explain the fundamental physics of gravity and general relativity.

To incorporate existing VR science demonstrations into outreach programs.
GR in VR: Using Immersive Virtual Reality as a Learning Tool for General Relativity
Do you want to experience a new, immersive technology?
Have you wanted to see how matter curves space and slows down time?
Then POINT VR's study is for you!
For an hour of your time, you can experience our GR simulation and help us learn how VR can better teach Einstein's ideas about the universe. Participants will be asked to complete an anonymous survey and recorded on video unless opted out. The results will help us learn more about using VR in physics education. Study open to undergraduate students at UIUC.
Set up your appointment with us today! Email us at phys-pointvr@illinois.edu or contact our P.I. at shaffer1@illinois.edu
Upcoming Events: Interest Meeting
Come learn about the project and find out how you can get involved!
Loomis Lab, Room 276
5:00 - 6:00 PM
Upcoming Events: CUWiP Conference
Conference participants can explore general relativity in virtual reality with help from UIUC physicists.
Loomis Laboratory of Physics, Atrium
What is virtual reality?
Virtual reality (VR) allows users to experience a computer generated simulation or game in three dimensions. Head mounted displays, like the Oculus Quest, allow users to be fully immersed in the experience, and handheld controllers allow them to interact with their environment.
Benefits of using virtual reality
In VR, students can see demonstrations across a wide range of physical scales that would not be possible with table top demos. This feature makes VR an ideal platform for teaching students about gravity. Research has shown that students who are taught using VR experience many educational benefits, beyond the fact that it is fun. Below is a partial list of recent studies on the subject.
This body of research presents a compelling case that even a single classroom visit can have an impact on student engagement.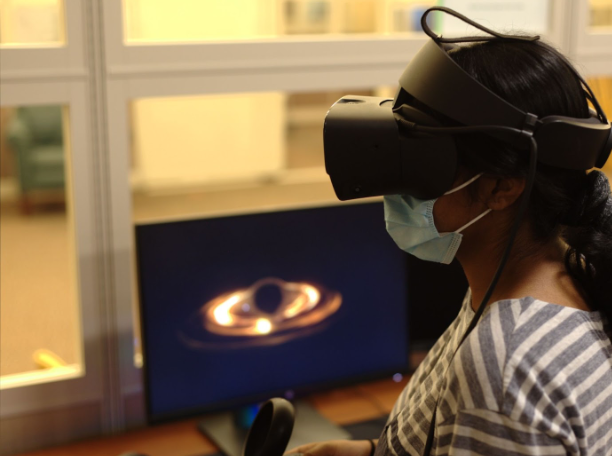 Bringing physics to local schools through virtual reality
In phase one of this project, we will take portable Oculus Quest headsets from the UIUC IDEA lab to middle schools and high schools. We will use these headsets to show students existing science simulations. This experience will be supplemented with an introductory lecture about the science topics covered in the simulation.
The visit will typically take about an hour, and timing can be adjusted as needed. Students will be split into two groups; half will experience the VR demo while the other half meets with a physicist, and then they will switch. Everyone will have the chance to put on a VR headset. A pre-survey and post-survey will be issued to gather feedback about the program and assess effectiveness. Graduate student volunteers will be available to answer any questions students may have throughout the experience.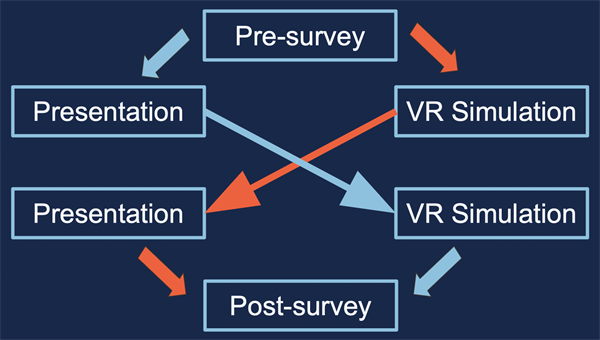 For phase one of this project, we are working with a commercially available program (developed by Novelab) called Spheres, which has won many awards at film festivals. We focus specifically on chapter 2: "Songs of spacetime." This simulation introduces gravitational waves and black holes through a 10 minute immersive experience. You can watch the trailer for this experience here.
Developed by graduate students here at Illinois Physics, the supplementary talk describes the science behind the simulation. The talk begins with a description of general relativity as a curvature of the fabric of spacetime, then explains what black holes are and how their motions can generate gravitational waves. It provides a more detailed picture of the science introduced by the simulation, and shows students how a physicist might approach such topics.
86
Number of people who have seen the VR experience alone
194
Number of people who participated in the full classroom demonstration
280
Total number of participants reached by this program to date

List of past demonstration locations: Urbana High School, Schlarman Academy, Science at the Market, Astronomy camp for high school girls, WYSE summer camp, Midwest Relativity Meeting, ICASU Conference.
Developing a virtual reality simulation
In phase two of this project we will develop our own interactive VR experience to teach students about general relativity. The concepts included in the simulation will be:
Spacetime is a smooth fabric.

The curvature of this spacetime is what we recognize as a gravitational field.

A good description of general relativity is: "Spacetime

tells matter how to move; matter tells spacetime how to curve." -

John Wheeler
We can get ripples in the fabric of spacetime. These ripples are called gravitational waves and they can teach us a lot about the Universe.

General relativity is a necessary extension of Newtonian gravity, and yet we believe it is still incomplete.
Our simulation will address all of these concepts in short chapters, designed to be accessible to middle school and high school students. Volunteers from the UIUC computer science and physics departments are already working on the first chapter using Unity. Eventually, the code and simulation will both be made public for anyone who wants to use them.
Coding objectives for the first chapter:
Create a curved grid that you can roll or throw objects at to see their path change. This will illustrate that "Spacetime tells matter how to move..."
Develop a grid that can warp around objects as you move them. This should demonstrate that "...matter tells spacetime how to curve."
Explore more massive vs. less massive objects in the grid
If you would like to join the project, please email us! If you would like to see the code for this project, you can check out the github by clicking the button below.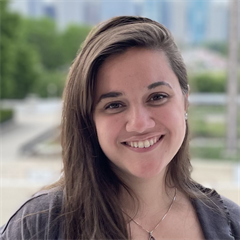 This project is split into two main groups, the outreach team and the VR production team.
The outreach team will use existing VR Demos, such as Spheres, with middle and high schoolers. So far the outreach team has been showing Spheres to undergraduate students at UIUC to seek feedback and refine the program.
The VR production team is developing our own VR experience, using Unity. Work on chapter one, which describes gravity as the curvature of the fabric of spacetime, is already underway.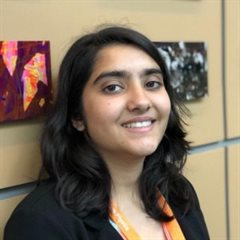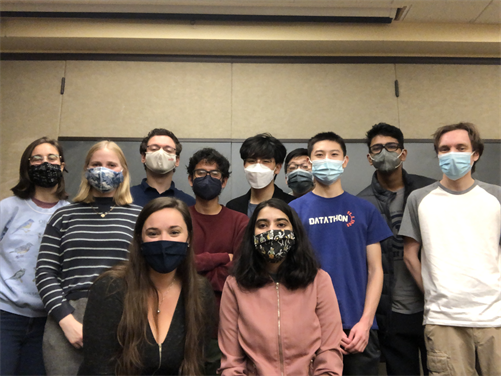 If you're interested in getting students excited about physics through virtual reality, this is a big project with lots of opportunities for hands on experience.
Volunteers can:
code (Unity/C#)
work directly with students
assess effectiveness of technology in teaching
test newly-developed VR simulations
Many of the opportunities associated with this project require no experience or prior knowledge, just curiosity! To join our team, please contact us below so we can add you to our Discord Server.
Contact us!
To contact us with any comments or questions, or to request a VR demonstration, please email phys-pointvr@illinois.edu or click the button below!
If you would like to participate in this project, you can also request to join our Discord Server via email. Please let us know what portion of the project you might be interested in.
Future Goals - Outreach
We would love to expand this program beyond schools in the immediate area. This might include driving headsets to schools in rural areas in Illinois or to neighboring states, as well as helping schools that already have headsets implement this program. Our goal is to bring new technology and active research scientists to as many students as possible.
Future Goals - VR Development
We plan to make the developed simulation and the Unity project publicly available via GitHub. Our hope is to provide materials to people we are not able to directly reach, so they can design their own educational demonstrations. In addition, this content can serve as a base for others to make their own freely available simulations in VR using Unity.